From Basic Plans to the Whole Nine Yards
Our Boat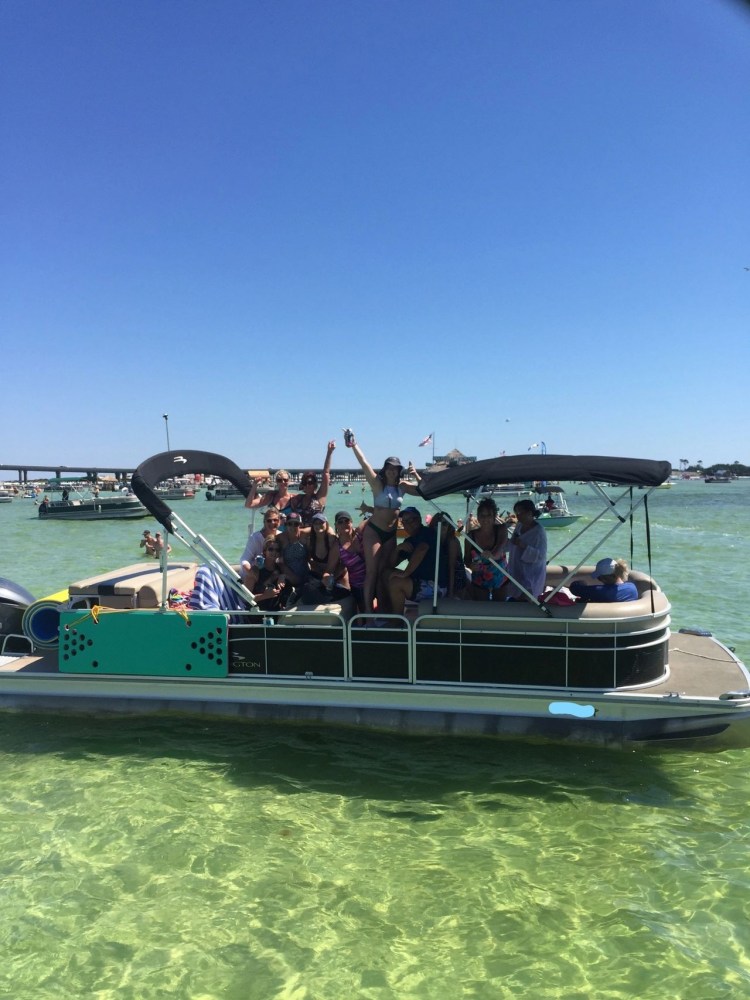 World famous Crab Island is a wonderful place to spend with friends and family. The only way to access it is by boat. If you are going to spend two or three or even more hours there, you need a comfortable and well-equipped boat. You probably wont spend the entire time you are there in the water. Having a boat outfitted specifically for the event means having the most fun possible on the trip. Our boats are Tri Toon meaning instead of having the standard TWO pontoons, our boats have THREE pontoons. That makes the boats much more stable and offers a smoother ride over choppy water. Depending on the package you select, you can have just the basics or you can have ALL the toys including inflatables, dance floor, Bluetooth speakers, additional hours, lily pad, ice chest with ice, bottled water and much more with the Deluxe package. We have seasoned Captains with the necessary experience in the bay waters and gulf. Your worries end once you reach the pick up point. From then on we take care of facilitating the fun. We act as your bartenders, guides and hosts and our goal is an unforgettable experience. SAFETY is our primary concern, with satisfaction coming in at a close second. Our Captains are all Veterans of the US armed forces and have extensive training in situational awareness. We want you to have a very memorable day and want to come back again.
Boat Rates
Save 5% when paying in cash!
Pricing below is based on a group of six or less.
Basic cruise
$350 for 3 hours*
$400 for 4 hours*
Comes with Tri toon boat, ice and ice chest. Straight to Crab island, anchor and come back.
Upgrade Cruise
4 hours, Morning or Afternoon start times. Comes with Tri toon boat, ice chest, ice, bottled water, 18′ lily pad, beer pong, optional seashell hunt, some inflatable floats. Bluetooth speaker, dolphin excursion and other optional destinations besides Crab Island. Extensions available depending on scheduled bookings. ($650)
"The Whole Nine Yards"
4 hours (afternoons only depending on scheduled bookings) Comes with our largest and most powerful Tri-Toon pontoon boat. Everything in the Upgrade cruise with the addition of inflatable floating dock/dance floor, multiple inflatable toys, twin large sized Bluetooth speakers, discounts at Crab Island vendor boats. A drone may be used to photograph and video your time at crab island. (when weather permits) Extensions ARE available on this cruise. ONE tank of fuel for each vessel. Remember FIVE hours. Price for Whole Nine Yards without any additional watercraft is $800.
Specialty Cruises
For younger children. Treasure hunt cruise. Instead of heading directly to Crab Island, you choose from three different treasure hunt excursions located on three different islands. Guaranteed to find treasure no matter which map you select. We head to the semi private island you select and follow a treasure map and try to locate the buried pirates treasure chest. Keep all the treasure discovered. There is a BIG TREASURE among the treasure maps where each week if not discovered, another $25.00 is added until it reaches $250.00. If the lucky map is chosen, among the other treasure inside the chest will be a certificate for whatever amount of cash the BIG TREASURE is up to. Time permitting, we can head to crab island after that, however everything you can do at Crab Island, you can do at any of the semi private islands. A perfect place to visit if you don't like the party style atmosphere ($800).
Birthday Cruises
We provide decorations and even a cake for the special day. We can go to any of the semi private islands or head to crab island.
Satisfaction Guaranteed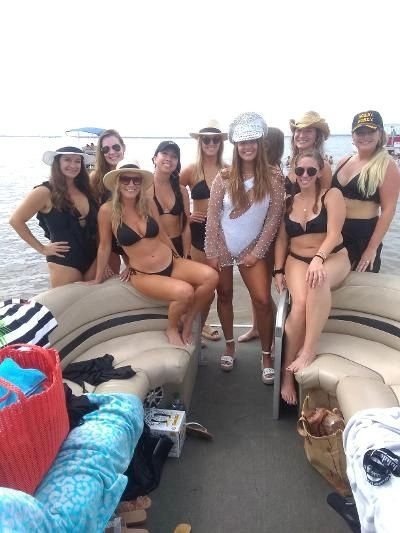 Our Captains have hundreds or even THOUSANDS of hours experience on LOCAL waters. Safety is our Primary concern. Satisfaction is our secondary because there can be only one first. There is no "good enough" with our cruises. The better time you have, the more we enjoy the trip too. Everyone from young to old will enjoy our variety of available trips. The boat is YOURS for the time you are on it and so you can tell us what you want to do. We can fit a lot of things in for the time frame. Some JUST want to go straight to crab island and we can do that. Others just ask us to show them the sites. Whatever we decide, we want it to be memorable. While you are in the water, we will take care of replacing your beverages so you dont have to climb in and out of the boats. Anything you need on the boat, just ask and we are glad to get it for you. We want you and your friends and relatives to book with us every time they are in the area and the only way we can expect that is to treat you like royalty. We have the nicest boats and toys on the water and enjoy sharing them.
Contact Us!
Send us a message with any comments, questions, or scheduling concerns. We will get back to you soon!
Contact Us: